Af IMCC Global
SHEBA projektet i Etiopien er det ene af IMCC's projekter, som har eksisteret i 2 år. Projektet arbejder for at fremme seksuel og reproduktiv sundhed samt kønslighed i de etiopiske high schools. Arbejdet foregår ved at uddannede youth models, som er medicinstuderende fra Etiopien, underviser eleverne gennem målrettede workshops.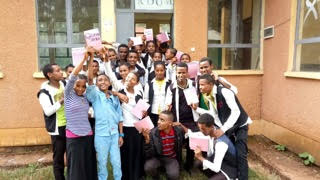 Udover oplysning ude på skolerne, arbejder projektet også med at oplyse offentligheden i Etiopien om vigtigheden af seksuel og reproduktiv sundhed, som en del af den faste undervisning. Projektet har indtil videre fået utrolig meget opbakning og opmærksom både hos lokale politikere, den danske Ambassadør i Etiopien samt på internationale konferencer. Denne del af arbejdet, samt styrring af projektet lokalt, udføres at den faste working group baseret i Etiopien.
Læs nedenfor beretninger fra både en af vores youth models samt fra en af working group medlemmerne.
Tiyobista, second year medical student from Addis Ababa.Youth Model.
What is the role of a youth model in the SHEBA project?
They go to selected high schools in rural areas in Ethiopia and teach different workshops on SRHR and gender equality. They are trying to make an impact on the student's perception regarding these topics and hopefully we will make a change in the end.
What motivated you to become a youth model?
Being from a third world country, I see a lot of things happening in our country like gender inequality, women abuse. We hear it all the time on the news and so it motivates me to make a change.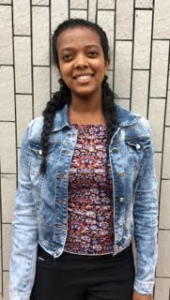 How you done any voluntary work before?
I am in this SDP (social duty program) that helps show people in the right direction.  Its about helping people in the emergency department finding their way, helping them get the right information and so on. I also work with peer assisted learning where we mentor five students. Volunteering is really important to me. We do it for people.
What is your favorite part of the project?
I am very passionate about the topic of gender equality that we teach the high school students. I feel that this is something the Ethiopia is struggling with a lot at the moment. Also I like teaching about women empowerment and self-esteem. I feel this is really important because no one is perfect, right? We all have flaws. So we try to help people reach their goals and dreams by building their self-esteem. But actually I like the entire project, so it is quite difficult for me to pick out a few parts.
Do you see people you know being affected by low self-esteem?
Obviously yes, many people. But I just try to teach that no one is perfect and we just have to believe in ourselves. And also accepting our flaws.
What do you think about the project choosing to teach in rural schools rather than urban schools?
Urban schools are more globalized and have more access to information on the Internet. The rural schools do not have to same access. That is why is think that it is more important to reach the rural schools and giving them information. I feel that it will have a bigger influence in general.
Do you think that it is important that it is young people that become youth models?
Yes. Because I believe that the students feel more comfortable being taught by young people when it comes to subject like SRHR. It creates a safe space.
Do you believe that the SHEBA project is making a difference?
It is! For sure.
Can you give us any examples that show this?
So I have not been out to the schools yet, but I heard this through some of the other members of the project. I was told that people who visit the high schools after the workshops really feel the change and can see the impact it has made on the students.
What do you believe are the main causes of gender inequality and lack of sexual and reproductive health awareness in Ethiopia?
I think that we grew up like this. For example many girls are not allowed to finish school because they have to take care of the household. I think people have to change their perspective.
You mentioned that you want to be more than a doctor in the future; can you tell us more about that?
Yes, what I meant was that I do not just want to sit in my office – I want to be out there, exploring and listening to people's opinion and perspective. I want to try to help in many ways and make a difference for people not only when it comes to health but also socially and culturally.
What are you hoping to gain from being a youth model on the SHEBA project?
I am going to gain more knowledge about it and in that way try to make a change for people. I don't just want to be a normal doctor only helping people in the hospital; I want to be outside the hospital helping people as well.
Wondwesen, medical student from Addis Ababa. Member of St. Paul working group.
Can you describe your role in the SHEBA project?
I am one of the working group members, and I am also the financial coordinator of the St. Paul working group. I have been in the project for two years now, which is actually from the start of the project where the first working group from IMCC came and introduced us to the idea.
What motivated you to become a part of the project?
I am a part of this project because I see the problems happening in the country. There are lots of problems with pregnancy, contracting STD's, and also sexual abuse. The people affected by this do not know that it will affect their lives. So I was thinking about doing something and when SHEBA came here I was very motivated to join and I was there from the start of the training. I was not working with this subject before, but when I got the chance to join the working group I was so motivated to apply for it because I wanted to make a change on sexual and reproductive health and rights.
Why do you engage yourself on a volunteer basis?
I believe that voluntary things are the ones, which makes a real change because people do it from their hearts. They do not think about payment or think about what they are going to get afterwards. So I really want to help people and I know the best way to help them is on a voluntary basis without thinking about what I am going to get in return.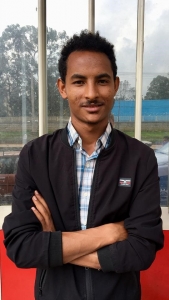 What is your favorite part of the SHEBA project?
My favorite part of this project is that it is very well organized. It has good people who have good skills and it supplies trainings if we need other and new skills. Also the working group members and all the youth models are so motivated to create changes. I think that those are my favorite parts.
Do you see yourself, as a future doctor, sticking to the same values within this project?
Yes indeed. While I was a youth model in the pilot project I was teaching workshops and it was straight from the heart. I believe in it so much and I feel like I am going to continue in my future profession as well. Many of these subjects within the project are taboo in my community and the people do not have much knowledge about it. So I want to be the doctor who helps the community, especially with knowledge about sexual and reproductive health and rights.
Do you think the SHEBA-project is making a difference within the society?
Yes of course. Especially among high school students who are starting to talk more openly about their normal life and their normal bodies. For example, seeing a girl with menstrual blood on her dress is a really big shame for her – which it should not be. But when we go there and train them they feel like they want to accept it as normal. And actually when we do the survey after giving the training we see a big difference in attitudes in general.
Can you give an example of how you see the influence on the young people?
Yes, there was this girl, one of our trainees' friends. She called one of our working group members and asked us how she could get safe abortion. She was trying to go to a traditional place, but when she contacted us, she was told that going to this place would be very unsafe because of the risk of getting sexually transmitted infection for a long time, infertility or even death. She ended up going to a hospital instead and when she came to the hospital she got a safe abortion and she is still contacting us, telling us how happy she was for the help and knowledge.
I am so happy to see the teaching spreading out in the communities.
Can you tell us a little bit about the future of SHEBA? Like what is next?
The future for the SHEBA project is to expand to more high schools, because we are not going to change the whole country by working in only one or two high schools. We should spread out. The partnership project is one step towards that. We are going do the partnership project in six schools, which is doubled by two from the pilot project. And the other thing is that we need to work in other LMO's (Local Member Organizations, red.) as well. We are working on three LMO's with our donor DUF (Dansk Ungdoms Fællesråd), but I think we should try to find other local resources as well. Also we need to influence policy makers to put it in the curriculum, so that the government, by its own budget, can deliver this very important workshop for all the schools. And that is the future I am working towards.
The project has been receiving a lot of support lately, like you just won the Rex Crossley Arward. Can you tell us about that?
Yeah, the Rex Crossley Award was an award we got for our teamwork during an IFMSA general assembly, which gives us access to present the SHEBA project at the next WHO conference. It was giving on the basis of how we do projects, how we designed it, and how much effect it will bring to the community. It was very nice to get that award because it is very motivating to keep on going.
We know you have been kind of inspired by the SHEBA project to start your own project. Can you tell us about it?
When I saw how the SHEBA project went, I was so inspired to work more with projects to solve community problems. One of the biggest problems in the country currently is addiction and substance abuse. I wanted to work with the same kind of project on that area as well, so I designed the project of substance abuse prevention and intervention. And it was to create awareness for people that addiction is a disease. Most of the people do not think that addiction is a disease. They feel like it is a choice of life, and we go in there trying to prove them wrong. We want to advocate and create awareness. It is an online-based project actually, where we are working on social medias and via our website. Here we give people knowledge, inputs and information about addiction, how they can prevent it and where and when they can get treatment. We have also included the aspect of having youth models that visits schools and teach about this subject. Also we have a conference, which has community leaders, religious leaders, policy officers, Ministry of Health and Ministry of Youth officials, our campus directors and students to create awareness about substance abuse.